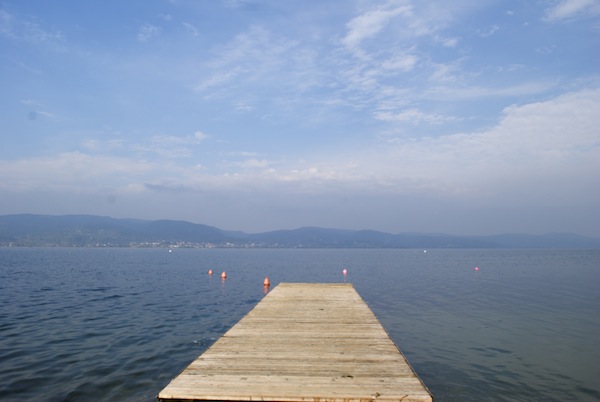 History
Like many places in Turkey, there's a story behind Lake Sapanca's name. In fact, it derives from a myth that many locals apparently still believe. Sapan is the Turkish word for slingshot, and allegedly an old man carrying one happened across the original town asking for a glass of water. No one was willing to spare one, so on his way out he cursed the entire town to be submerged in a flood. As the story goes, the town was flooded and Lake Sapanca was created.
What To Do
The villagers, awestruck by this prophetic act, deemed this old man with a slingshot worthy of remembrance. Some even say that the original town's mosque still sits at the bottom of this massive lake.
Regardless of the validity of this story (needless to say, I have my doubts…), I want to thank whatever or whoever created this serene and peaceful reservoir. Located just past Izmit, Lake Sapanca is easily accessible by train, bus or car from Istanbul. The area is loaded with activities for all seasons both on the lake and off, with accommodations that range from camping to luxury spas and resorts. It's a beautiful weekend destination that made me feel like I was in another world, even though it's only a short jaunt from the concrete jungle that is Istanbul.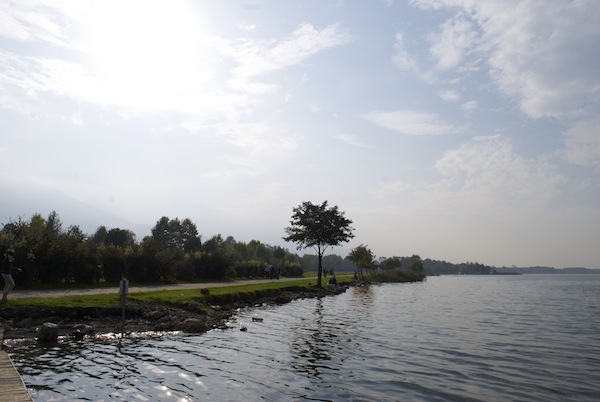 Getting There
There are a variety of ways to get to Sapanca, the simplest being driving. Having your own wheels is also beneficial because there are nearby areas that can only be accessed by car – it is possible to get these places using a combination of buses and cabs, but that can eat up time and be inconvenient. There's a high-speed train from Pendik to Arifiye (12 TL) that takes an hour and usually leaves five times a day. You can then take a cab from Arifiye to central Sapanca, which costs around 30 TL and takes about 20 minutes. You can also take various tourist buses. VIP goes directly to Sapanca, while the other companies go to Adapazarı Merkez  (approx. 25 TL), where you can get a bus to Sapanca Istasyonu for 3 TL. The bus journey will take you no longer than 2-3 hours. Actually, we found that it took longer to get across the second Bosphorus bridge from Esenler then it did to get from Beykoz to Sapanca.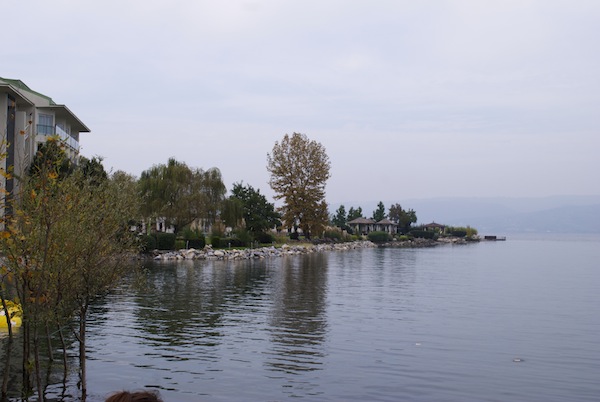 Where to Stay
On the lake, there's a lot of high-priced villas and homes for rent, and there are also expensive resorts with spas and pools. The most famous is the Richmond Nua Wellness Spa, but a room will run you around $300 a night. I stayed at a place called Ogun House Hotel that was pretty central, clean, comfortable, had bikes that guests were free to use, and was about a sixth of the price of the nearby spas and resorts. One of the employees even gave us a ride around, explained some of the history and showed us points of interest. But if you want something a little more out in the woods or just really want to escape the crowds, there are a lot of campsites around Kartepe, about 20 minutes from the lake, as well as spots surrounding the lake itself where you can either pitch your tent or pay for an actual site.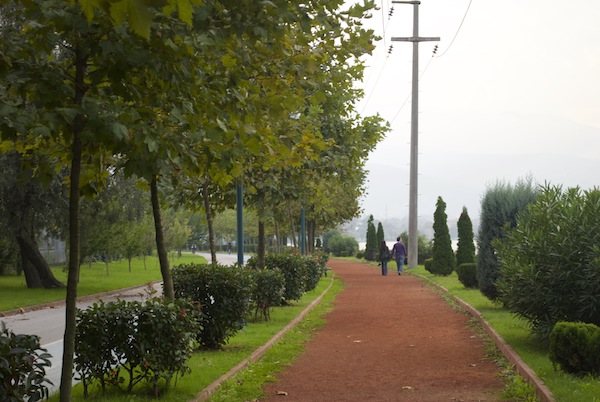 On the Lake
Once you venture from your hotel or campsite, you've got a plethora of options. Fishing is a big draw here, either from the shores or a boat. Trout (alabalık) is the main catch, and you can find it in restaurants all around the lake. In the summer, swimming is obviously popular along with water skiing, canoeing and kayaking. There's also little stands all along the shoreline where you can rent paddle boats.
As for villages, there's the signature Sapanca, with its waterfront lined with cafes – the perfect spot for breakfast. We went to Gulizar, which had quite a large breakfast buffet for 30 TL. In the main traffic circle you'll find some tea gardens and a bar or two (be forewarned the area is on the conservative side – there aren't many tekels or bars – so you may want to BYOB). If you travel in the other direction on the waterfront away from the restaurants it will take you to the yürüyüş yolu. It's a pretty bike and walking path that is a good place for your morning run or just an afternoon lounging in the grass. There are also benches and picnic areas if you prefer to have a cookout. We had dinner at Sasa Harmanlık, which is located right before the start of the bike path. It has decent enough food with a dining section situated on a pier over the water.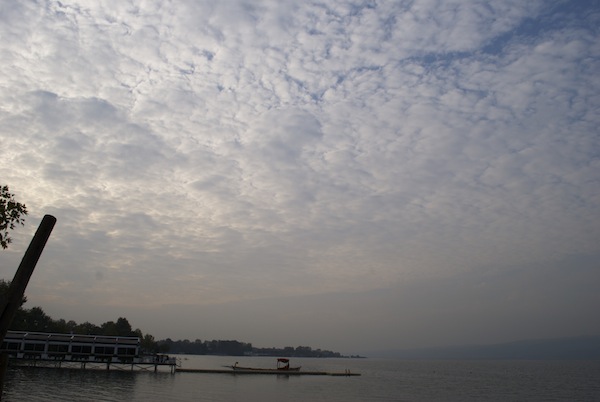 Kırkpınar is another place where you can lie in the grass along the shore. It's about a 20-30 minute bike ride from the center of Sapanca, but definitely worth the trek. There's a number of tree farms on the way, sporting different types of firs and pines that made the ride smell like a living room during the Christmas season. When you finally get to Kırkpınar there's a beautiful little strip of grass along the lake, dotted with brides and grooms having their wedding photos taken, where you can grab tea or have a barbecue. If you want to head inland, there's a lot of farmland and an interesting rural landscape that stretches for a couple of miles. Some of these farms have in-house restaurants and sell their own organic products (although there is debate about the legitimacy of the organic claims at some of these places). Otherwise, to get into the more scenic sections inland you need to hop in a car and drive for about half an hour.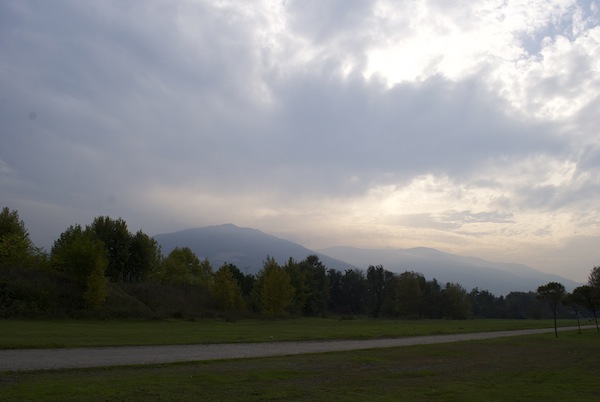 Around the Lake
When you do make it inland – and I suggest you do – the big tourist draw is Kartepe. Mainly a ski mountain and resort in the winter, there's also a fair amount of trekking to be done on foot or ATV during the rest of the year. I didn't get to see much in the few days I visited, but I'm definitely going back to explore the views. One side gives you Lake Sapanca with the other showing off the Gulf of Izmit. All of this with vistas of the Samanlı Mountains in between.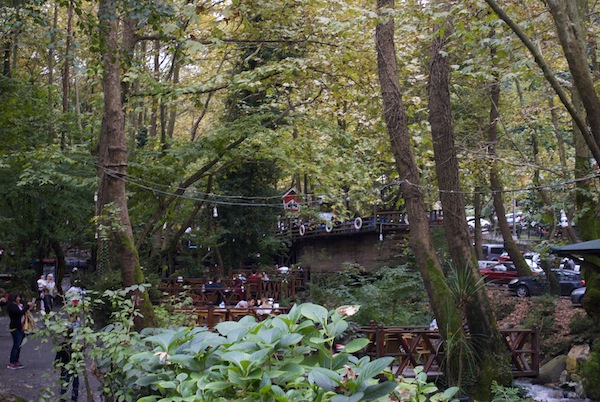 Another must see all year round is Maşukiye. Located more towards the base of Kartepe, the area is known for its series of man-made waterfalls that wind around breakfast balconies and cabins. When you get tired of all the people, you can go for a walk on the nearby trails. If you're more of an adrenaline junkie there are ATV tours that will let you see more in less time (they're also easy enough for beginners). If that's too much excitement for you, there's a pretty mild zip-line before the restaurant area where you can at least get a little rush before you relax at a cafe and listen to the water stream down. My biggest disappointment was that I didn't take advantage of the paintball courses halfway up the road – who doesn't love shooting at your friends in a beautiful, natural setting?
Lake Sapanca offers leaf peeping in the fall, skiing in the winter, and boating and fishing in the spring. But whenever you decide to visit, it will always provide you a quiet and peaceful escape into nature.
If you liked this post, please check where it was first published over at yabangee.com where you can see other informative posts about Turkey from myself and other ex-pats and locals.